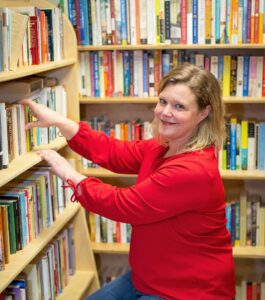 Kelly Brotzman (she/her) is the Executive Director of Prison Book Program. Kelly's passion for supporting people in prison comes from her experiences teaching college classes in prisons and volunteering with incarcerated students.
Prior to joining PBP, Kelly spent 20 years in higher education, leading offices and programs dedicated to service learning and teaching classes about social justice, poverty, and inequality. Kelly has a PhD in ethics from the University of Chicago. In her free time, she likes looking at contemporary art and antiques.
kelly@prisonbookprogram.org
617.529.3442
Beatrice Masters (she/her) is PBP's Program Manager. She facilitates volunteer sessions, oversees scheduling, and manages our book inventory.  
In her free time, Bea does community organizing with Showing Up for Racial Justice Boston and Building Up People Not Prisons and is a pen pal with Black and Pink MA. She is an avid reader and Little Free Library steward. 
Bea has a degree in economics and a background in management consulting.