PRISON BOOK PROGRAM Address
United First Parish Church
1306 Hancock Street (Basement)
Quincy, MA 02169
The church is the giant stone building with the gold dome. Go to the back of the building – the opposite end from the steeple. 
Our stairs go down to the basement and are on the sidewalk next to the street and traffic light. The entrance is circled in yellow below.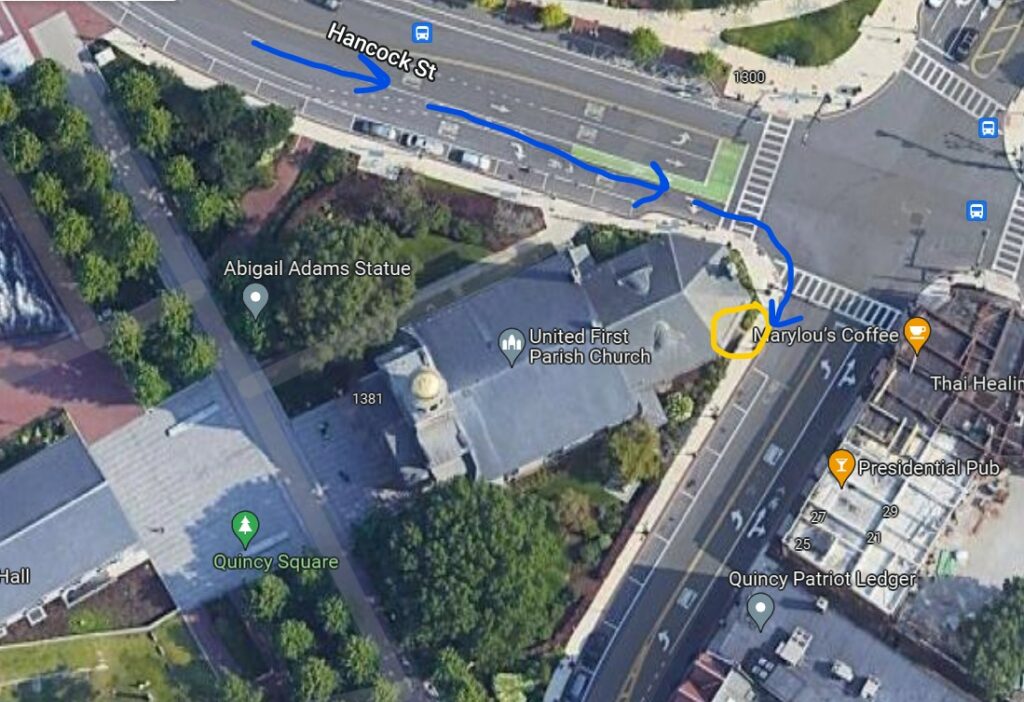 Exit the station using the Hancock Street exit.

Walk through the park and towards the fountains. 

The large grey granite church with gold dome is the United First Parish Church. It is the most prominent building in Quincy Center. 

Go to the back of the church – the opposite end from the steeple. Near the traffic light at the back of the building, you should see a set of basement stairs next to a sidewalk and the street. 
There are two sets of basement stairs: the one on the park side near the entrance with the rainbow flag is the wrong one. Go towards the traffic light!
34 Coddington Street
Quincy, MA 02169
Across from Bethany Congregational Church and the Thomas Crane Library yard, about half a block from the church.
Free parking on Saturday and Sundays. Some people have parked here on weeknights with no problems, but do so at your own risk.
25 Cottage Ave
Quincy, MA 02169
Operated by the City of Quincy; free charging for electric cars. It is within walking distance of the Quincy Center MBTA station and Prison Book Program.
Street parking is free and does not have a time limit on Sundays or evenings after 6:00 pm. On weekdays and Saturdays street parking is free but is limited to 1 or 2 hours; please read signs carefully. 
There is usually parking in front of the Thomas Crane Public Library just past the church.
Follow the blue arrows on the map to the left. 
Drive south down Hancock Street, towards the church, which is the big stone building with a gold dome. If there is parking on the northern side of the church, use that, otherwise turn right at the light and pull over immediately. You'll be in front of the PBP door.