You can run a book drive to support Prison Book Program at your office, school, church, or other location! Here are some ideas to help it go smoothly. 
Set start and end dates and choose a location to gather your books
Decide who will be in charge of bringing books to PBP at the end of your drive
Make a sign for your book collection location and email out information with the dates and location, asking for gently used and new paperback books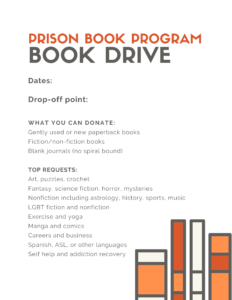 This generic flyer has info about our most needed genres. You can add the dates and location!
Other tips that might help:
At a workplace: Ask team leaders or whoever is in charge to send the emails about the drive. Include a link to our wishlist in case people prefer to buy books or want ideas for what titles to look for.
At a university or school: For each of our bold genres below, try to find a department or club who might have books! For example, reach out to the art department about drawing books, Spanish department about books in Spanish, etc.
Share the ideas below for how to find free or cheap books locally!
If people don't have books, ask them to contribute to a bulk order of composition books, puzzle books, or coloring books. And make sure to share one of our wishlist links for people who want to buy books directly.
Set a goal number of books and count the number each week. Send update emails to let people know how it's going!
How to find books in your community
Here are a few tips and tricks for finding low-cost and free books in local communities.